IS SM 2011
19-03-2011 Morjärv Race 1 & 2
1 Race
gick bra ett nervöst chassi, men farten fanns och uppkörningarna kom under de 8 varven, men på näst sista varvet blev det en snurrning i första böjen där man har mycket bra fart Nicke väntade på en rullning men tack den uteblev. så ett ras från 4 plats ner till 6e i mål.
Was going okey but a very nervous chassi, to soft. Last a lot of poitions into the first corner also , But then was the Chase on, was up to 4 position with 1 ap to go the was a slipp around dounat, done in the first corner where you got a very good speed Nicke was expecting a turnover but thanks that was not happen, Lost 4th position to 6 th pos.
2 Race
med smärre justeringar på dämpare o krängare blev chassit ett helt annat gick stabilt och snällt. Även här var starten ej bra men sedan så hämtades position efter position upp och 3 plats det blev, Var en seger för teamet med pall plats.
With some moderat adjustments carried out on chassi was then a compleate different car out on the track was running so well, lost one's again a lot in the start but then was place by place taken and 3 place at checker flag. It felt like a victory for the team.
Links for video
Race 1 http://www.youtube.com/watch?v=2VKsu4yraAE&feature=channel_video_title
Race 2 http://www.youtube.com/watch?v=PKMMq1FeNlg&feature=channel_video_title
Onboard cam Niklas Sandström BMW M3 Race 2 http://www.youtube.com/watch?v=tbx0BfnZptQ
-------------------------------------------------
20-03-2011 Överkalix Race 3 & 4
Race 3 Överkalix
Missade i starten igen blev nästa sist men då var jakten i gång, chassi o motor gick fint och bil för bil blev omkörda. 2 varv för mål så var 2 placeringen inom räckhåll. men i sista kurvan rasade motorn så det blev slutet på söndagen.
Race 3
Lost many positions during the start for starting with 23 mm long nail into the ice is not easy.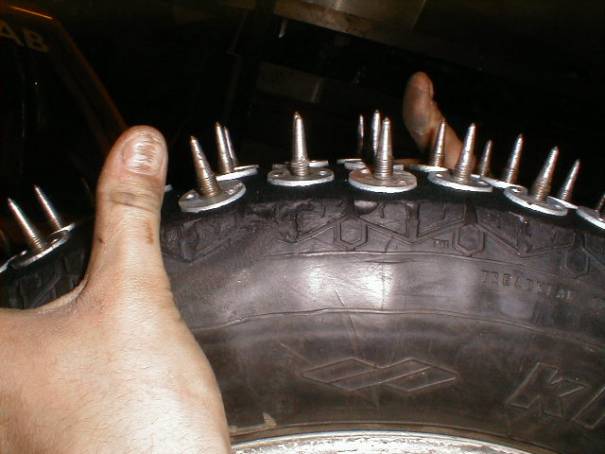 but ons again was the running up throw the feild started and nicke was attacking like on the Rallycross track in to the corners, and that was sucessful. With 2 laps to go was 2place visible. But in the last corner was a engine brakedown happen. so resoult was DNF
Video link
Race 3 http://www.youtube.com/watch?v=V0rZHRf7Igs&feature=channel_video_title
osensurerad version from onboard camera
http://www.youtube.com/watch?v=TFZ7-noPkrg
21-03-2011
motorn ut och riven trasigt var vevaxel och en vevstake.
engine out and opened crankshaft and conrod damaged.
23-03-2011
Nya motor delar hämtade på Laitis och vevstake på väg från Sten Parner Motor
Ny vevaxel fixad av Mickes Motor
New parts delivered by Laitis and a con rod on its way from Sten Parner Motor
A new crankshaft was fabricated by Mickes Motor
26-03-2011
Race 5 & 6 Robertsfors Sikeå
För detta race så var bilen sammansatt igen 01:15 på lördags morgonen / The car was finised at 01:15 on saturday morning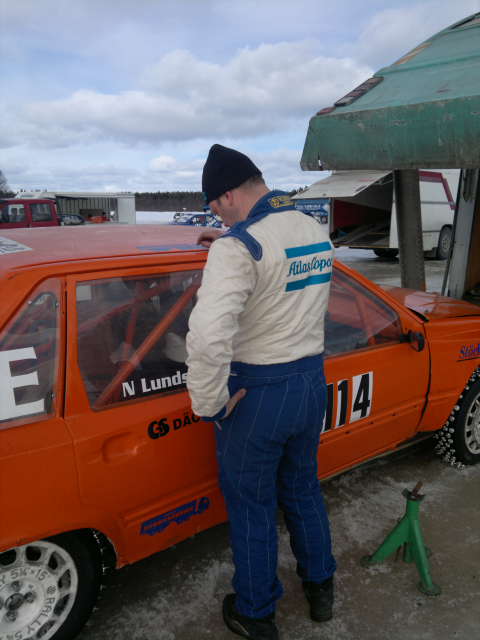 Concentration
Race 5
Video Race 5
startade i första led i position 7 ytterst position. kom i väg i mitten av fältet som vanligt, men hade ju fritt spår in i böjen på yttern som sedan blev inner i nästa sväng och då var det 3 plats samt att ledaren kunde man se. tog 2 platsen, och började jakten , men efter 2 varv slutade motorn att gå över 5500 prm. Så 2 platsen blev 3 i mål och en mycket upprörd pilot flyg ut ur kärran.
Came out in the middle if the field but hade the advance to have the outermost track in to the first rightcover that was oveer going to a sharp left hander almost direct. And with a perfect chassi was it more and less pedal to to metal, and after that was 3 position taken. was overtaking 2 place, and started the chase on the leader. But after 2 laps was something happen with the engine. Lost power above 5500 rpm totaly, and the was is not posible to hold the position, so with 1,5 laps to go was second place gone, but ended with a 3 place. But wery frustraded pilot came back to pit.
adjustments of rearaxle and absorbers done and chance in software for injection, out on warm up track and then was the car deliver like normal and chassi was better then before. So now should we go ut and dance again
.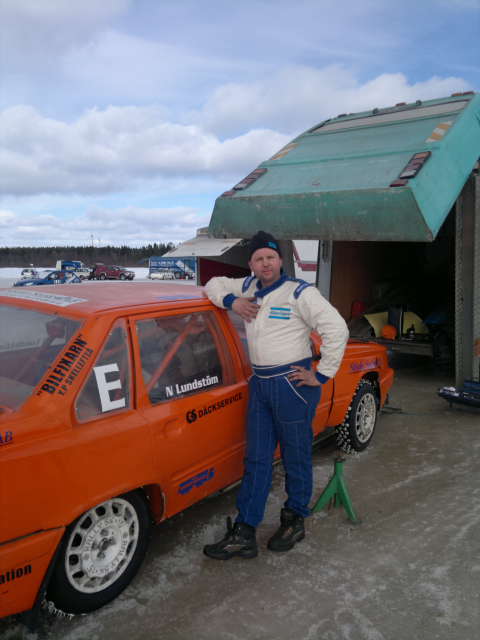 look at my rightfoot
Race 6
valde spår som 3man tog det näst yttersta som var ledigt. Startern hittade på någonting det var många som inte var beredda när flaggan lyfter. efter 300 mtr rasade turbon och is SM 2011 var färdigt.
took 6 grid pos next outmost The starter was doning something strange this time and a lot of drivers was not ready when the flag was hoisted. And after 300 mtr war the race over, a turbocharger brakedown happened. So DNF.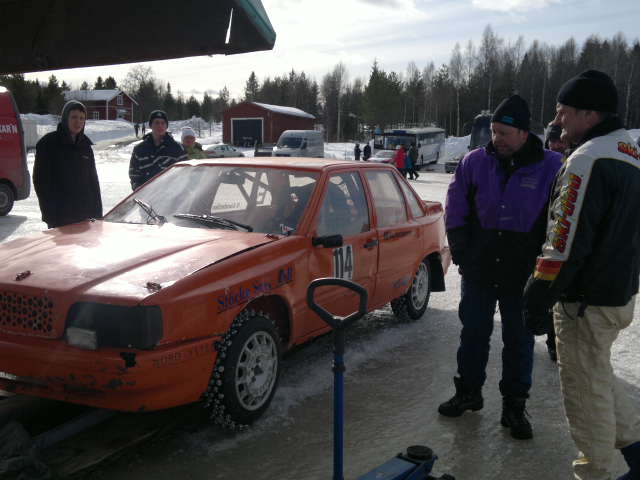 Tyre talk with Kjell P